The fully automatic MS4s® cell counter provides 21 parameters
with 5-part differentiation of leukocytes in only 85 seconds.

For fast, easy and accurate determination of value, it requires only 30μl of whole blood.

The MS4s® compiles the 5-part diff fully automatically (lymphocytes, monocytes, neutrophils, eosinophils and basophils) The MS4s® works with open and /or closed blood tubes. The combination of practical size (DIN A4 size) and an affordable price is a unique solution in a modern design.


The MS4s® works fully automatically,
is low maintenance, patient friendly,
economical and fast.
The haematology analyzer
has the following advantages:
Best price for haematology analyzers with 5-part differentiation (true count of eosinophils)
Compact size, smallest size in this class (about A4 paper size)
Specially developed for POC measurements
Flexible due to different reagent pack sizes for up to 110, 225 or 900 measurements
Even with longer idle times, no higher reagent consumption is required because the MS4s® does not perform any automatic rinsing cycles during these times
No warm-up time necessary
Automatic standby times programmable
The MS4s® does not require daily calibrations
Temperature-independent
High measurement accuracy through digital technology
Built-in high-resolution graphics printer
Possible to connect to various external standard office printers and to the laboratory computer information system
Connection of an external computer keyboard or a barcode reader for patient data Identification
BLOOD COUNTS DETERMINATION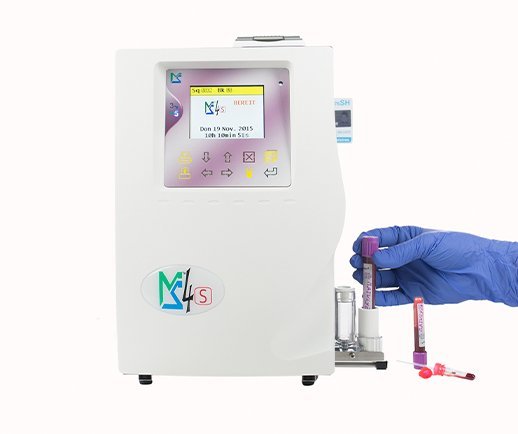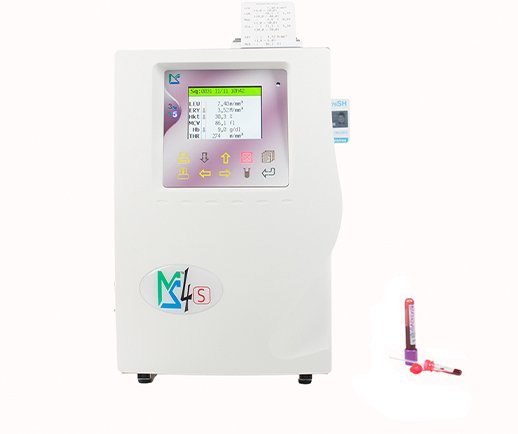 With the advantage of a
built-in printer
, all printed results will include histograms,
patient data and reference ranges.
For the connection to a computer, an external printer,
a barcode reader and external keyboard,
the MS4s® haematology analyzer includes two serial,
one parallel and one
keyboard interface
.
Easy operation with user guide
Colour Graphics Screen
Memory for the last 100 patient data
Preset reference ranges for men, women and newborns.
In addition, two further programmable reference ranges are available.

The fully automatic haematology cell counter MS4s® -
for fast, easy and accurate haematology results from
only 30μl of whole blood.
MORE INFORMATION ABOUT THE
HEMATOLOGY CELL COUNTER MS4s®?


Send your request.
We are there for you!